Search results for : college ladies wallet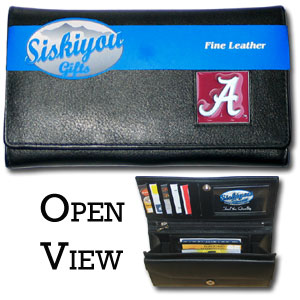 This Alabama Crimson Tide genuine leather women's pocketbook features 9 credit card slots, a windowed ID slot, spacious front pocket, inner pocket and zippered coin pocket. The front of the pocketbook has a hand painted metal square with the Alabama Crimson Tide primary logo. Thank you for shopping with CrazedOutSports.com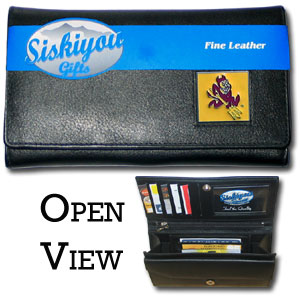 This genuine leather women's pocketbook features 9 credit card slots, a windowed ID slot, spacious front pocket, inner pocket and zippered coin pocket. The front of the pocketbook has a hand painted metal square with the Arizona State Sun Devils team's primary logo. Thank you for shopping with CrazedOutSports.com
This genuine leather women's pocketbook features 9 credit card slots, a windowed ID slot, spacious front pocket, inner pocket and zippered coin pocket. The front of the pocketbook has a hand painted metal square with the Arizona Wildcats team primary logo. Thank you for shopping with CrazedOutSports.com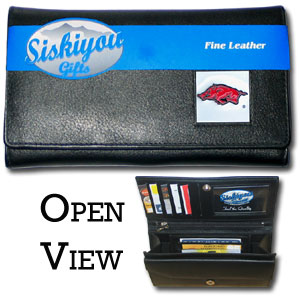 This genuine leather women's pocketbook features 9 credit card slots, a windowed ID slot, spacious front pocket, inner pocket and zippered coin pocket. The front of the pocketbook has a hand painted metal square with the Arkansas Razorbacks team's primary logo. Thank you for shopping with CrazedOutSports.com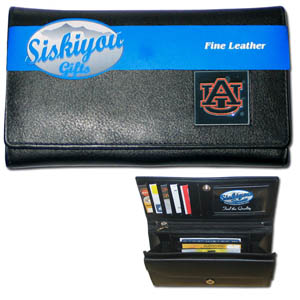 This genuine leather women's pocketbook features 9 credit card slots, a windowed ID slot, spacious front pocket, inner pocket and zippered coin pocket. The front of the pocketbook has a hand painted metal square with the Auburn Tigers team's primary logo. Thank you for shopping with CrazedOutSports.com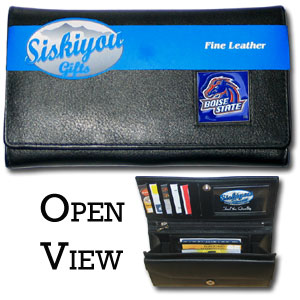 This genuine leather women's pocketbook features 9 credit card slots, a windowed ID slot, spacious front pocket, inner pocket and zippered coin pocket. The front of the pocketbook has a hand painted metal square with the Boise State Broncos primary logo. Thank you for shopping with CrazedOutSports.com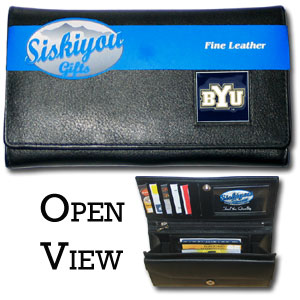 This genuine leather women's pocketbook features 9 credit card slots, a windowed ID slot, spacious front pocket, inner pocket and zippered coin pocket. The front of the pocketbook has a hand painted metal square with the BYU Cougars team's primary logo. Thank you for shopping with CrazedOutSports.com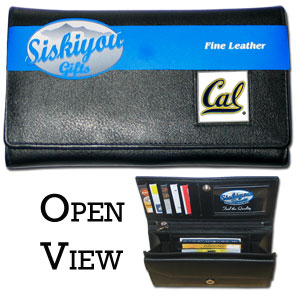 This genuine leather women's pocketbook features 9 credit card slots, a windowed ID slot, spacious front pocket, inner pocket and zippered coin pocket. The front of the pocketbook has a hand painted metal square with the Cal Berkeley Bears team's primary logo. Thank you for shopping with CrazedOutSports.com
This genuine leather women's pocketbook features 9 credit card slots, a windowed ID slot, spacious front pocket, inner pocket and zippered coin pocket. The front of the pocketbook has a hand painted metal square with the Clemson Tigers primary logo. Thank you for shopping with CrazedOutSports.com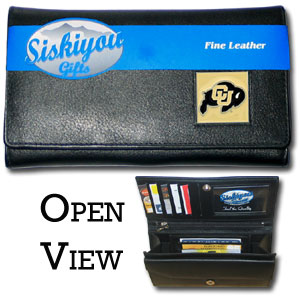 This genuine leather women's pocketbook features 9 credit card slots, a windowed ID slot, spacious front pocket, inner pocket and zippered coin pocket. The front of the pocketbook has a hand painted metal square with the Colorado Buffaloes primary logo. Thank you for shopping with CrazedOutSports.com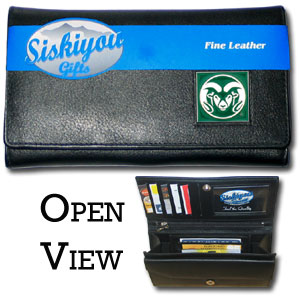 This genuine leather women's pocketbook features 9 credit card slots, a windowed ID slot, spacious front pocket, inner pocket and zippered coin pocket. The front of the pocketbook has a hand painted metal square with the Colorado State Rams primary logo. Thank you for shopping with CrazedOutSports.com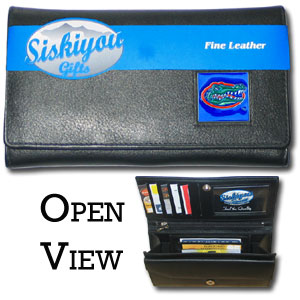 This genuine leather women's pocketbook features 9 credit card slots, a windowed ID slot, spacious front pocket, inner pocket and zippered coin pocket. The front of the pocketbook has a hand painted metal square with the Florida Gators team's primary logo. Thank you for shopping with CrazedOutSports.com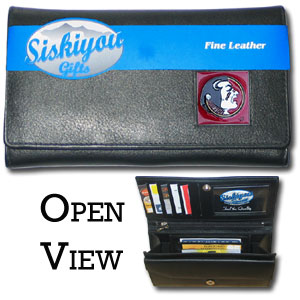 This genuine leather women's pocketbook features 9 credit card slots, a windowed ID slot, spacious front pocket, inner pocket and zippered coin pocket. The front of the pocketbook has a hand painted metal square with the Florida State Seminoles primary logo. Thank you for shopping with CrazedOutSports.com
This Georgia Bulldogs genuine leather women's pocketbook features 9 credit card slots, a windowed ID slot, spacious front pocket, inner pocket and zippered coin pocket. The front of the Georgia Bulldogs genuine leather ladies wallet has a hand painted metal square with the team's primary logo. Thank you for shopping with CrazedOutSports.com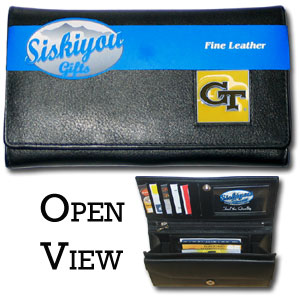 This genuine leather women's pocketbook features 9 credit card slots, a windowed ID slot, spacious front pocket, inner pocket and zippered coin pocket. The front of the pocketbook has a hand painted metal square with the team's primary logo. Thank you for shopping with CrazedOutSports.com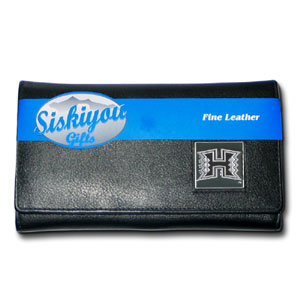 This genuine Hawaii Rainbow Warriors leather women's pocketbook features 9 credit card slots, a windowed ID slot, spacious front pocket, inner pocket and zippered coin pocket. The front of the pocketbook has a hand painted metal square with the Hawaii Rainbow Warriors primary logo. Thank you for shopping with CrazedOutSports.com
This genuine Illinois Fighting Illini leather women's pocketbook features 9 credit card slots, a windowed ID slot, spacious front pocket, inner pocket and zippered coin pocket. The front of the pocketbook has a hand painted metal square with the team's primary logo. Thank you for shopping with CrazedOutSports.com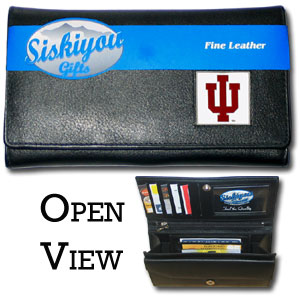 This genuine Indiana Hoosiers leather women's pocketbook features 9 credit card slots, a windowed ID slot, spacious front pocket, inner pocket and zippered coin pocket. The front of the pocketbook has a hand painted metal square with the team's primary logo. Thank you for shopping with CrazedOutSports.com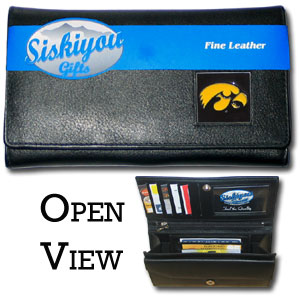 This genuine leather Iowa Hawkeyes women's pocketbook features 9 credit card slots, a windowed ID slot, spacious front pocket, inner pocket and zippered coin pocket. The front of the pocketbook has a hand painted metal square with the team's primary logo. Thank you for shopping with CrazedOutSports.com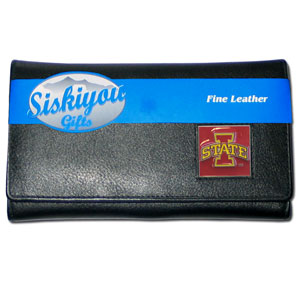 This Iowa St. Cyclones genuine leather women's pocketbook features 9 credit card slots, a windowed ID slot, spacious front pocket, inner pocket and zippered coin pocket. The front of the pocketbook has a hand painted metal square with the team's primary logo. Thank you for shopping with CrazedOutSports.com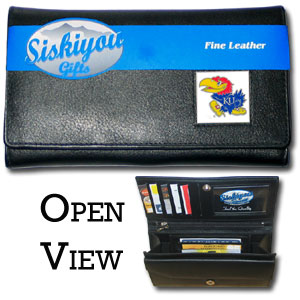 This genuine leather Kansas Jayhawks women's pocketbook features 9 credit card slots, a windowed ID slot, spacious front pocket, inner pocket and zippered coin pocket. The front of the pocketbook has a hand painted metal square with the team's primary logo. Thank you for shopping with CrazedOutSports.com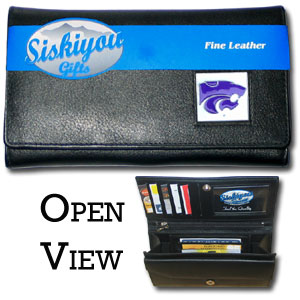 This genuine Kansas St. Wildcats leather women's pocketbook features 9 credit card slots, a windowed ID slot, spacious front pocket, inner pocket and zippered coin pocket. The front of the pocketbook has a hand painted metal square with the team's primary logo. Thank you for shopping with CrazedOutSports.com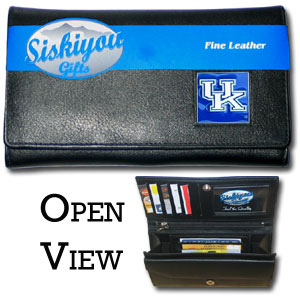 This genuine leather women's pocketbook features 9 credit card slots, a windowed ID slot, spacious front pocket, inner pocket and zippered coin pocket. The front of the pocketbook has a hand painted metal square with the team's primary logo. Thank you for shopping with CrazedOutSports.com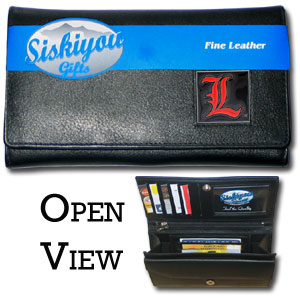 This genuine Louisville Cardinals leather women's pocketbook features 9 credit card slots, a windowed ID slot, spacious front pocket, inner pocket and zippered coin pocket. The front of the College Ladies Wallet - Louisville Cardinals has a hand painted metal square with the team's primary logo. Thank you for shopping with CrazedOutSports.com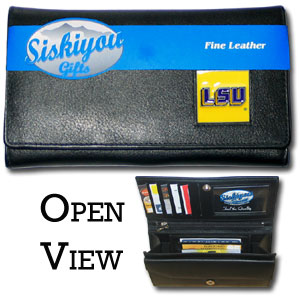 This genuine leather LSU Tigers women's wallet features 9 credit card slots, a windowed ID slot, spacious front pocket, inner pocket and zippered coin pocket. The front of the LSU Tigers College Ladies Wallet has a hand painted metal square with the team's primary logo. Thank you for shopping with CrazedOutSports.com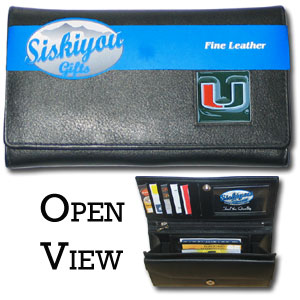 This genuine leather Miami Hurricanes College Ladies Wallet features 9 credit card slots, a windowed ID slot, spacious front pocket, inner pocket and zippered coin pocket. The front of the Miami Hurricanes College Ladies Wallet has a hand painted metal square with the team's primary logo. Thank you for shopping with CrazedOutSports.com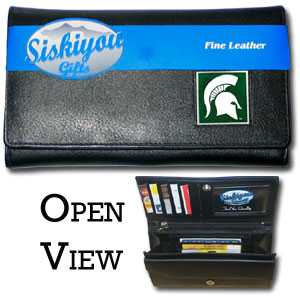 This genuine leather Michigan St. Spartans College Ladies Wallet features 9 credit card slots, a windowed ID slot, spacious front pocket, inner pocket and zippered coin pocket. The front of the Michigan St. Spartans College Ladies Wallet has a hand painted metal square with the team's primary logo. Thank you for shopping with CrazedOutSports.com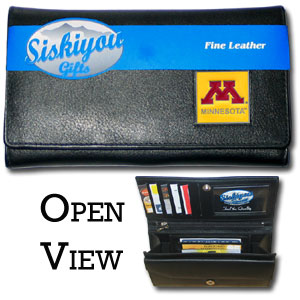 This genuine leather Minnesota Golden Gophers College Ladies Wallet features 9 credit card slots, a windowed ID slot, spacious front pocket, inner pocket and zippered coin pocket. The front of the Minnesota Golden Gophers College Ladies Wallet has a hand painted metal square with the team's primary logo. Thank you for shopping with CrazedOutSports.com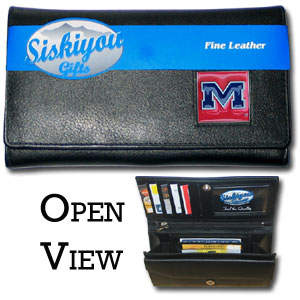 This genuine leather women's pocketbook features 9 credit card slots, a windowed ID slot, spacious front pocket, inner pocket and zippered coin pocket. The front of the pocketbook has a hand painted metal square with the team's primary logo. Thank you for shopping with CrazedOutSports.com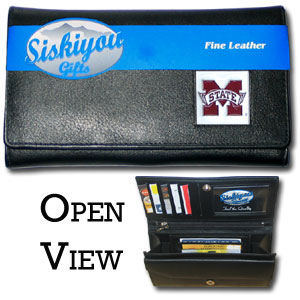 This genuine leather women's pocketbook features 9 credit card slots, a windowed ID slot, spacious front pocket, inner pocket and zippered coin pocket. The front of the pocketbook has a hand painted metal square with the team's primary logo. Thank you for shopping with CrazedOutSports.com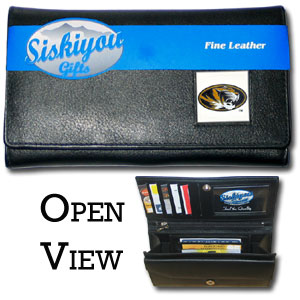 This genuine leather women's pocketbook features 9 credit card slots, a windowed ID slot, spacious front pocket, inner pocket and zippered coin pocket. The front of the pocketbook has a hand painted metal square with the team's primary logo. Thank you for shopping with CrazedOutSports.com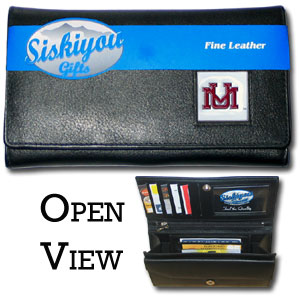 This genuine leather women's pocketbook features 9 credit card slots, a windowed ID slot, spacious front pocket, inner pocket and zippered coin pocket. The front of the pocketbook has a hand painted metal square with the team's primary logo. Thank you for shopping with CrazedOutSports.com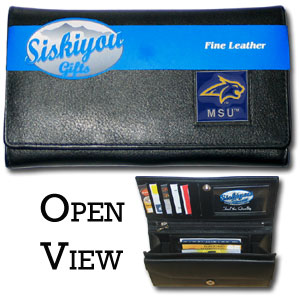 This genuine leather women's pocketbook features 9 credit card slots, a windowed ID slot, spacious front pocket, inner pocket and zippered coin pocket. The front of the pocketbook has a hand painted metal square with the team's primary logo. Thank you for shopping with CrazedOutSports.com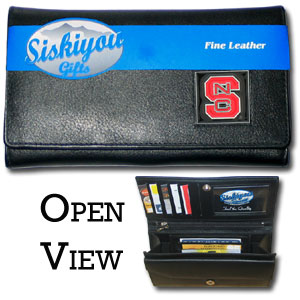 This genuine leather women's pocketbook features 9 credit card slots, a windowed ID slot, spacious front pocket, inner pocket and zippered coin pocket. The front of the pocketbook has a hand painted metal square with the team's primary logo. Thank you for shopping with CrazedOutSports.com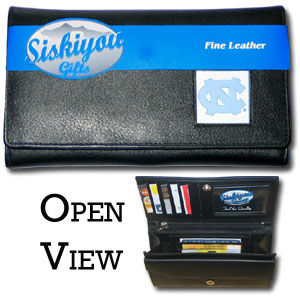 This genuine leather women's pocketbook features 9 credit card slots, a windowed ID slot, spacious front pocket, inner pocket and zippered coin pocket. The front of the pocketbook has a hand painted metal square with the team's primary logo. Thank you for shopping with CrazedOutSports.com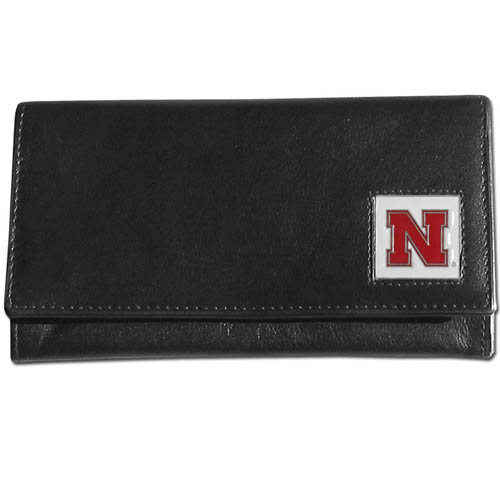 This genuine leather women's pocketbook features 9 credit card slots, a windowed ID slot, spacious front pocket, inner pocket and zippered coin pocket. The front of the pocketbook has a hand painted metal square with the team's primary logo. Thank you for shopping with CrazedOutSports.com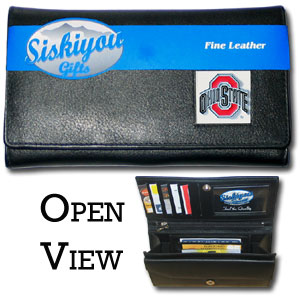 This genuine leather women's pocketbook features 9 credit card slots, a windowed ID slot, spacious front pocket, inner pocket and zippered coin pocket. The front of the pocketbook has a hand painted metal square with the team's primary logo. Thank you for shopping with CrazedOutSports.com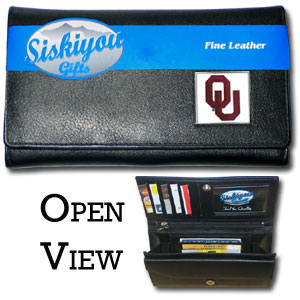 This genuine leather women's pocketbook features 9 credit card slots, a windowed ID slot, spacious front pocket, inner pocket and zippered coin pocket. The front of the pocketbook has a hand painted metal square with the team's primary logo. Thank you for shopping with CrazedOutSports.com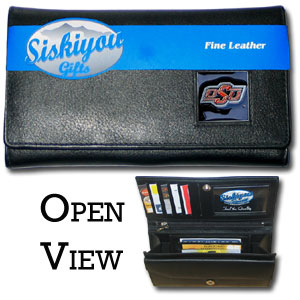 This genuine leather women's pocketbook features 9 credit card slots, a windowed ID slot, spacious front pocket, inner pocket and zippered coin pocket. The front of the pocketbook has a hand painted metal square with the team's primary logo. Thank you for shopping with CrazedOutSports.com
This genuine leather women's pocketbook features 9 credit card slots, a windowed ID slot, spacious front pocket, inner pocket and zippered coin pocket. The front of the pocketbook has a hand painted metal square with the team's primary logo. Thank you for shopping with CrazedOutSports.com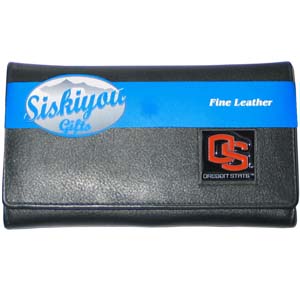 This genuine leather women's pocketbook features 9 credit card slots, a windowed ID slot, spacious front pocket, inner pocket and zippered coin pocket. The front of the pocketbook has a hand painted metal square with the team's primary logo. Thank you for shopping with CrazedOutSports.com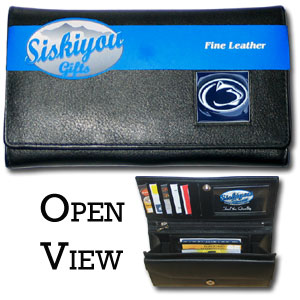 This genuine leather women's pocketbook features 9 credit card slots, a windowed ID slot, spacious front pocket, inner pocket and zippered coin pocket. The front of the pocketbook has a hand painted metal square with the team's primary logo. Thank you for shopping with CrazedOutSports.com
This genuine leather women's pocketbook features 9 credit card slots, a windowed ID slot, spacious front pocket, inner pocket and zippered coin pocket. The front of the pocketbook has a hand painted metal square with the team's primary logo. Thank you for shopping with CrazedOutSports.com
This genuine leather women's pocketbook features 9 credit card slots, a windowed ID slot, spacious front pocket, inner pocket and zippered coin pocket. The front of the pocketbook has a hand painted metal square with the team's primary logo. Thank you for shopping with CrazedOutSports.com
This genuine leather women's pocketbook features 9 credit card slots, a windowed ID slot, spacious front pocket, inner pocket and zippered coin pocket. The front of the pocketbook has a hand painted metal square with the team's primary logo. Thank you for shopping with CrazedOutSports.com
This genuine leather women's pocketbook features 9 credit card slots, a windowed ID slot, spacious front pocket, inner pocket and zippered coin pocket. The front of the pocketbook has a hand painted metal square with the team's primary logo. Thank you for shopping with CrazedOutSports.com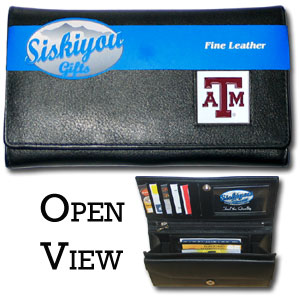 This genuine leather women's pocketbook features 9 credit card slots, a windowed ID slot, spacious front pocket, inner pocket and zippered coin pocket. The front of the pocketbook has a hand painted metal square with the team's primary logo. Thank you for shopping with CrazedOutSports.com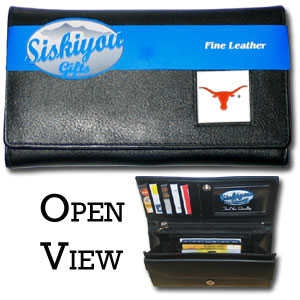 This genuine leather women's pocketbook features 9 credit card slots, a windowed ID slot, spacious front pocket, inner pocket and zippered coin pocket. The front of the pocketbook has a hand painted metal square with the team's primary logo. Thank you for shopping with CrazedOutSports.com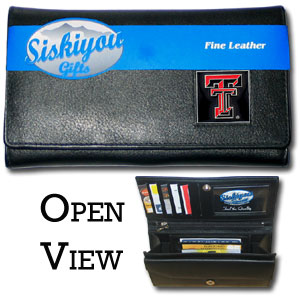 This genuine leather women's pocketbook features 9 credit card slots, a windowed ID slot, spacious front pocket, inner pocket and zippered coin pocket. The front of the pocketbook has a hand painted metal square with the team's primary logo. Thank you for shopping with CrazedOutSports.com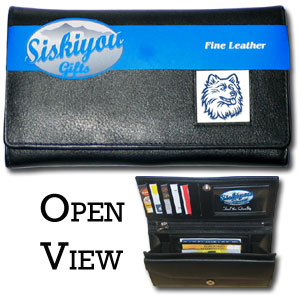 This genuine leather women's pocketbook features 9 credit card slots, a windowed ID slot, spacious front pocket, inner pocket and zippered coin pocket. The front of the pocketbook has a hand painted metal square with the team's primary logo. Thank you for shopping with CrazedOutSports.com
This genuine leather women's pocketbook features 9 credit card slots, a windowed ID slot, spacious front pocket, inner pocket and zippered coin pocket. The front of the pocketbook has a hand painted metal square with the team's primary logo. Thank you for shopping with CrazedOutSports.com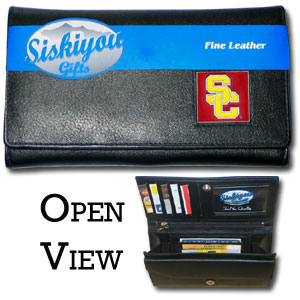 This genuine leather women's pocketbook features 9 credit card slots, a windowed ID slot, spacious front pocket, inner pocket and zippered coin pocket. The front of the pocketbook has a hand painted metal square with the team's primary logo. Thank you for shopping with CrazedOutSports.com
This genuine leather women's pocketbook features 9 credit card slots, a windowed ID slot, spacious front pocket, inner pocket and zippered coin pocket. The front of the pocketbook has a hand painted metal square with the team's primary logo. Thank you for shopping with CrazedOutSports.com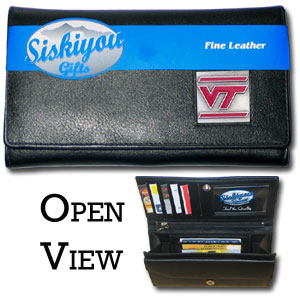 This genuine leather women's pocketbook features 9 credit card slots, a windowed ID slot, spacious front pocket, inner pocket and zippered coin pocket. The front of the pocketbook has a hand painted metal square with the team's primary logo. Thank you for shopping with CrazedOutSports.com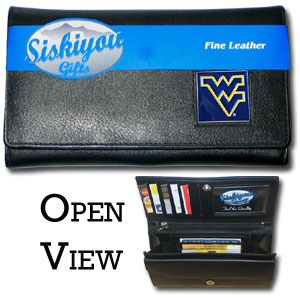 This genuine leather women's pocketbook features 9 credit card slots, a windowed ID slot, spacious front pocket, inner pocket and zippered coin pocket. The front of the pocketbook has a hand painted metal square with the team's primary logo. Thank you for shopping with CrazedOutSports.com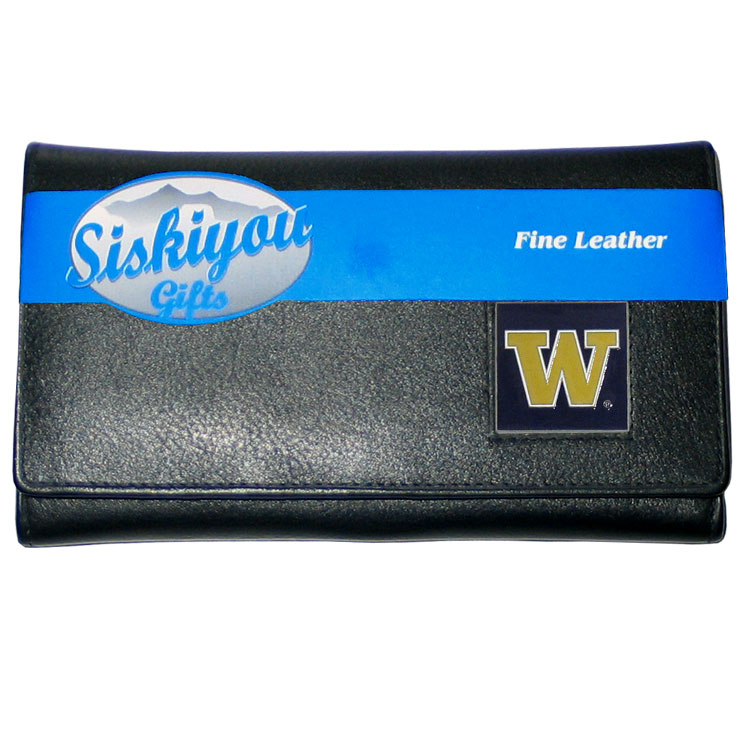 This genuine leather women's pocketbook features 9 credit card slots, a windowed ID slot, spacious front pocket, inner pocket and zippered coin pocket. The front of the pocketbook has a hand painted metal square with the team's primary logo. Thank you for shopping with CrazedOutSports.com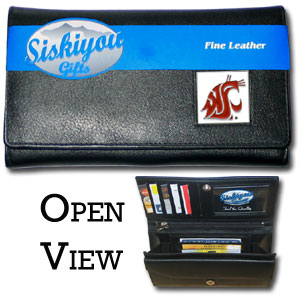 This genuine leather women's pocketbook features 9 credit card slots, a windowed ID slot, spacious front pocket, inner pocket and zippered coin pocket. The front of the pocketbook has a hand painted metal square with the team's primary logo. Thank you for shopping with CrazedOutSports.com
This genuine leather women's pocketbook features 9 credit card slots, a windowed ID slot, spacious front pocket, inner pocket and zippered coin pocket. The front of the pocketbook has a hand painted metal square with the team's primary logo. Thank you for shopping with CrazedOutSports.com
Pay with Paypal
Specials

* HOLIDAY SALE *
Christmas Gifts for under $20 Purchase ANY ITEMS and receive FREE SHIPPING.
All ITEMS INCLUDED !!
Your favorite SPORTS FAN PRODUCTS for GREAT PRICES...
SALE valid Through JAN 1st.. Get your favorite officially licensed NFL team items and more at Crazed Out Sports!!!
SAVE EXTRA 20%off with
NEW BRITAIN CT. IN-STORE PICK-UP!!