College
College - PITT Panthers Sports Memorabilia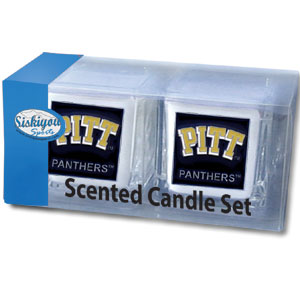 College Candle Set includes two 2" x 2" vanilla scented candles featuring a metal square with a hand enameled college emblem. Check out our extensive line of collegiate merchandise! Thank you for shopping with CrazedOutSports.com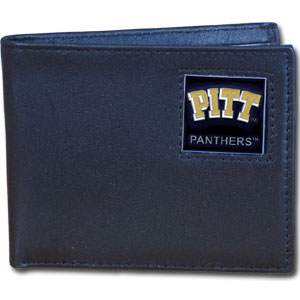 Our college Bi-fold wallet is made of high quality fine grain leather and includes credit card slots and photo sleeves. School logo is sculpted and enameled with fine detail on the front panel. Packaged in a window box. Thank you for shopping with CrazedOutSports.com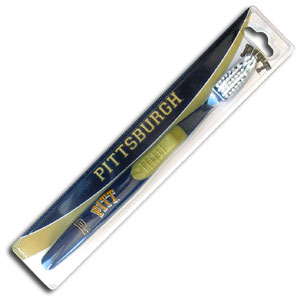 A great way to show off your team spirit! Our College Licensed toothbrushes have opposing angled bristles to reach between teeth with each forward and backward stroke. The extended tip accesses hard-to-reach areas of the mouth. Thank you for shopping with CrazedOutSports.com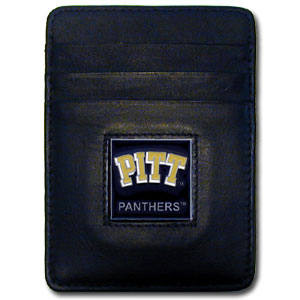 Our college Money Clip/Card Holders won't make you choose between paper or plastic because they stow both easily. Features our sculpted and enameled school logo on black leather. Packaged in a windowed box. Thank you for shopping with CrazedOutSports.com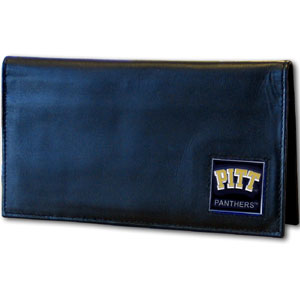 Our deluxe college checkbook cover is made of high quality leather and includes a card holder, clear ID window, and inside zipper pocket for added storage. Team logo square is sculpted and enameled with fine detail. Packaged in a windowed box. Thank you for shopping with CrazedOutSports.com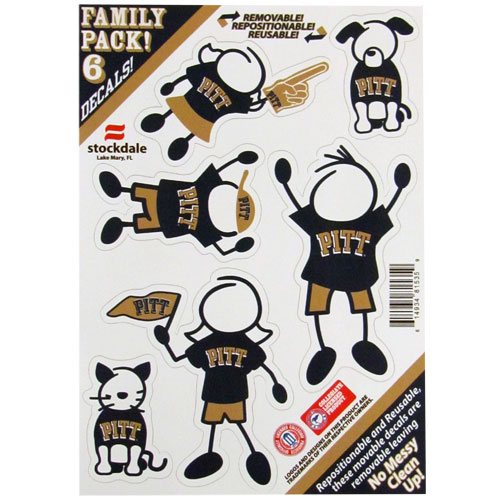 Show off your team pride with our Duke Blue Devils family automotive decals. The set includes 6 individual family themed decals that each feature the team logo. The 5" x 7" decal set is made of outdoor rated, repositionable vinyl for durability and easy application. Thank you for shopping with CrazedOutSports.com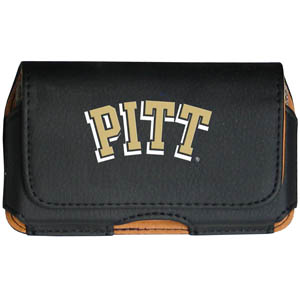 Keep you personal electronics safe with this horizontal protective case with belt clip and easy flip front. Fits a variety of personal electronics like blackberries, Nano classics, and iTouch. Thank you for shopping with CrazedOutSports.com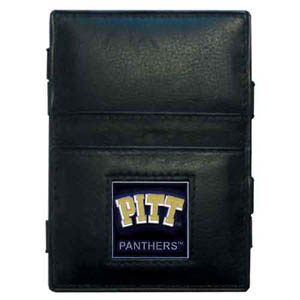 This innovative jacob's ladder wallet design traps cash with just a simple flip of the wallet! There are also outer pockets to store your ID and credit cards. The wallet is made of fine quality leather with an enameled school emblem. Thank you for shopping with CrazedOutSports.com
This square college key ring features fine leather surrounding a sculpted and enameled logo. Check out our entire line of collegiate merchandise! Thank you for shopping with CrazedOutSports.com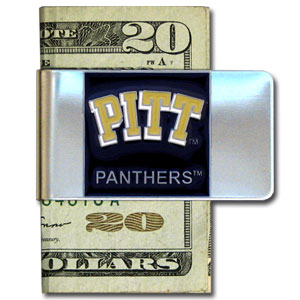 Put your team spirit where your money is with this large metal college money clip. Hand painted 3D emblem in school colors. Check out our extensive line of licensed sports merchandise! Thank you for shopping with CrazedOutSports.com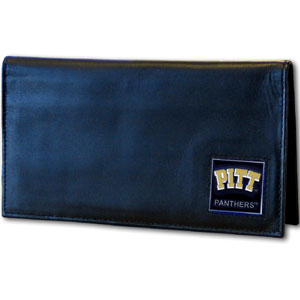 Our college executive checkbook cover is made of high quality leather includes inside pockets for added storage and plastic separator sheet for duplicate check writing. Team logo square is sculpted with hand enameled detail. Thank you for shopping with CrazedOutSports.com

This unique PITT Panthers key chain has 3 great functions! The key chain opens to become a nail clipper, when open you can access the nail file pad and the key chain has a bottle opener. Thank you for shopping with CrazedOutSports.com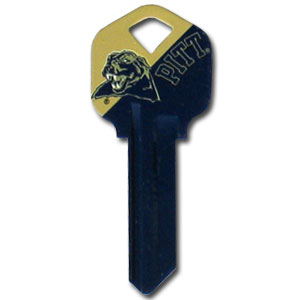 College house keys are a great way to show school spirit while keeping keys organized. Keys can be cut to fit your home or office Kwikset keys (reference pre-fix CSK for Schlage keys). Thank you for shopping with CrazedOutSports.com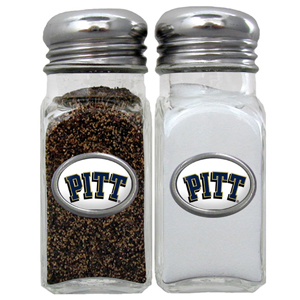 Our collegiate salt and pepper set is a great addition to any tailgating event or backyard BBQ. Thank you for shopping with CrazedOutSports.com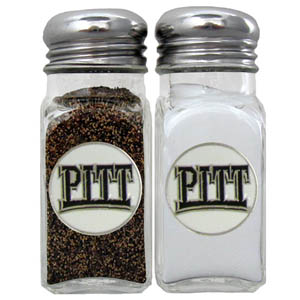 Our diner relica glass salt and pepper shaker sets feature fully cast & enameled PITT emblem on each shaker. They are the perfect addition to any outdoor event or indoor get together. Thank you for shopping with CrazedOutSports.com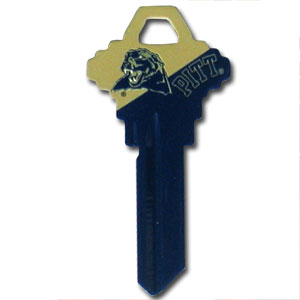 College house keys are a great way to show school spirit while keeping keys organized. Keys can be cut to fit your home or office Schlage keys (reference pre-fix CQK for Kwikset keys). Thank you for shopping with CrazedOutSports.com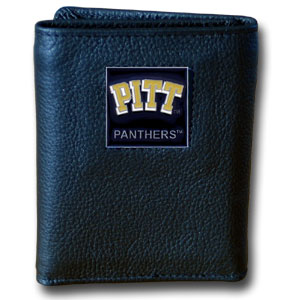 Our college Tri-fold wallet is made of high quality fine grain leather with school logo sculpted and enameled with fine detail on the front panel. Packaged in a windowed box. Thank you for shopping with CrazedOutSports.com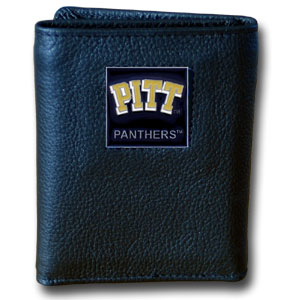 Our College collectors leather/nylon tri-fold wallet features a sculpted and hand painted team square on a black leather trifold. Includes an ID window, slots for credit cards and clear plastic photo sleeves. For a sporty feel, the liner of the wallet is high quality nylon. Thank you for shopping with CrazedOutSports.com

Use this attractive clip magnet to hold memos, photos or appointment cards on the fridge or take it down keep use it to clip bags shut. The magnet features a silk screened PITT Panthers logo. Thank you for shopping with CrazedOutSports.com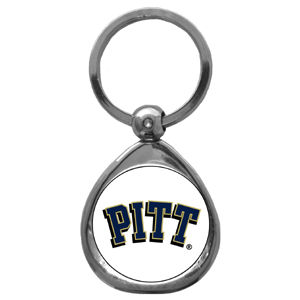 Our collegiate chrome keychain has a high polish nickel keychain with domed team logo insert. Thank you for shopping with CrazedOutSports.com

Use this attractive clip magnet to hold memos, photos or appointment cards on the fridge or take it down keep use it to clip bags shut. The magnet features a domed PITT Panthers logo.

It's a home state decal with a sporty twist! This PITT Panthers decal feature the team logo over a silhouette of the state in team colors and a heart marking the home of the team. The decal is approximately 5 inches on repositionable vinyl.

Our officially licensed tall leather wallet cover is made of high quality leather with a fully cast metal PITT Panthersemblem with enameled team color detail. The cover fits both side and top loaded checks and includes a large zippered pocket, windowed ID slot, numerous credit card slots and billfold pocket. Thank you for shopping with CrazedOutSports.com

Hate searching for a bottle opener, get our PITT Panthers bottle opener key chain and never have to search again! The high polish key chain features a bright team emblem.

This heavy-duty steel opener is extra long, with a durable vinyl covering. The extra length provides more leverage for speed opening and the opener features a large printed PITT Panthers logo.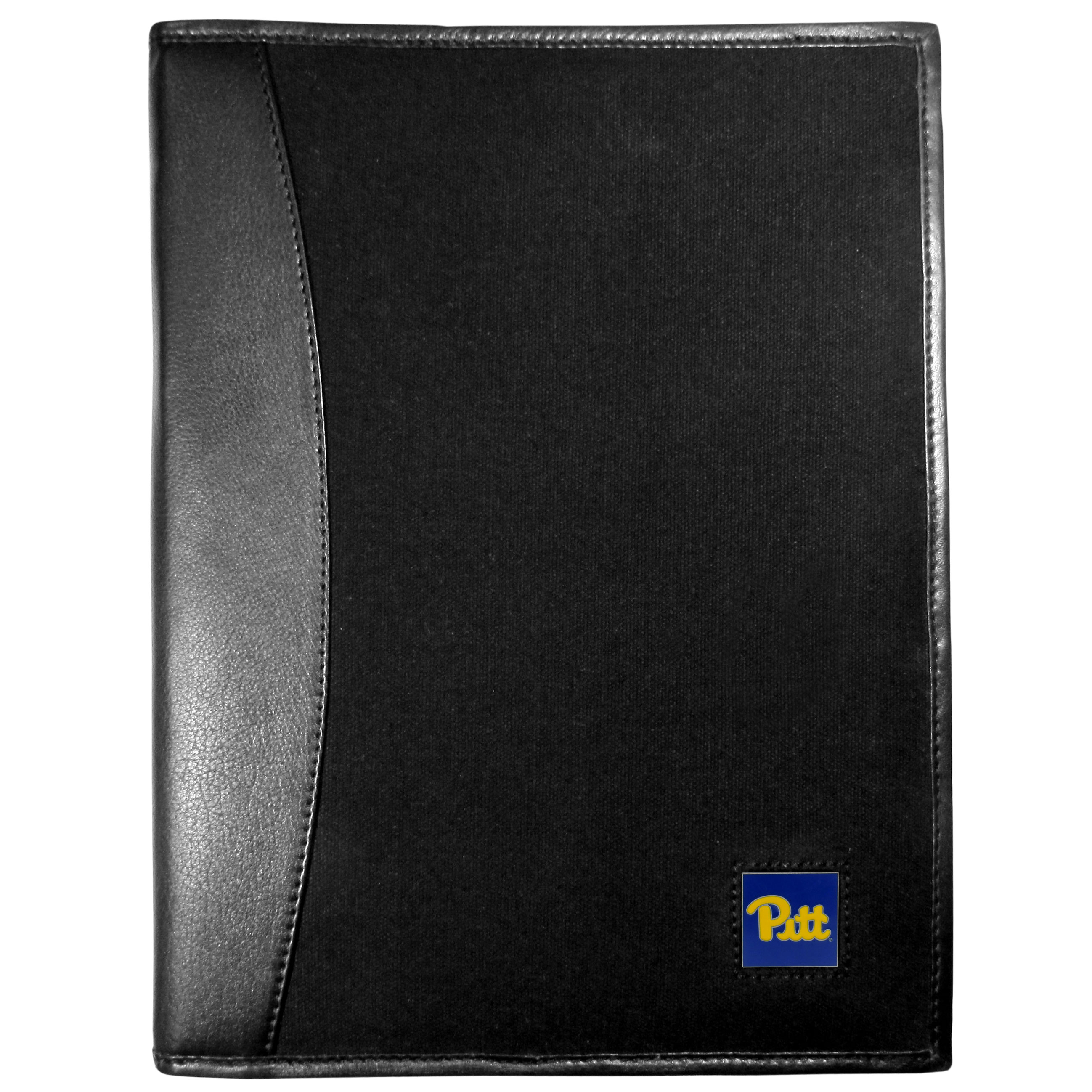 Our leather and canvas padfolio perfectly blends form and function. The attractive portfolio is bound in fine grain leather with an attractive canvas finish and the interior is a soft nylon. This high quality business accessory also features a fully cast metal PITT Panthers emblem that is subtly set in the corner of the organizer. It is packed with features like 6 card slots for badges, business cards, hotel keys or credit cards and ID with a large pocket for loose papers and a writing tablet slot making it a must-have for the professional on the go.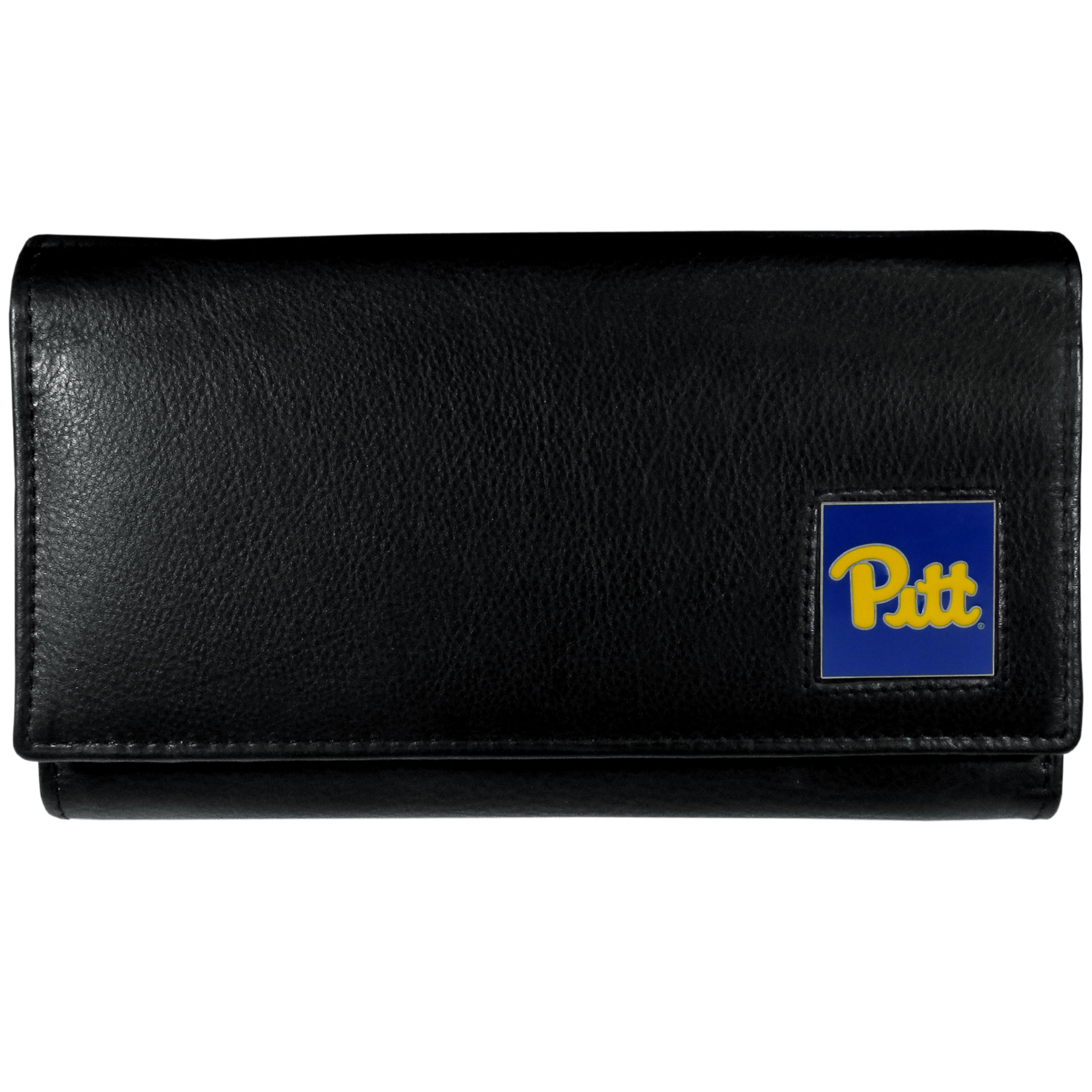 This genuine leather women's pocketbook features 9 credit card slots, a windowed ID slot, spacious front pocket, inner pocket and zippered coin pocket. The front of the pocketbook has a hand painted metal square with the PITT Panthers primary logo.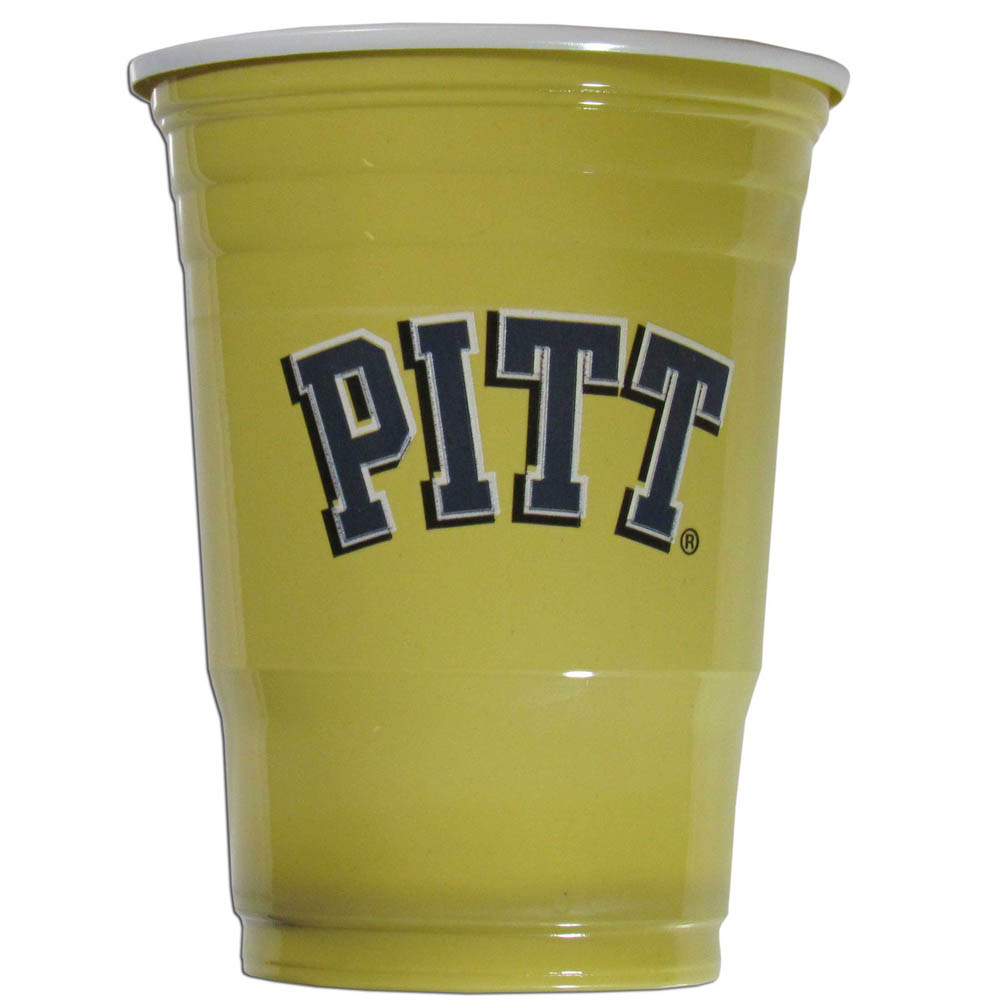 Our 18 ounce game day cups are what every tailgating or backyard events needs! The cups feature a big PITT Panthers logo so you can show off your team pride. The popular 18 ounce size is perfect for drinks or ping pong balls! 2 sleeves of 18 cups, 36 cups in total.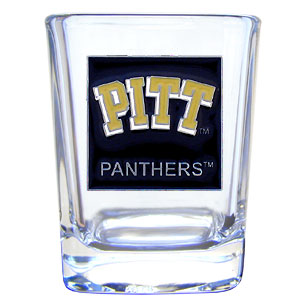 Our wholesale college collectors 2 oz shot glass features the school logo sculpted and enameled in fine detail. The glass makes a great gift or collector's item. Check out our entire line of wholesale collegiate products!
These designer inspired frames have a sleek look in all black with PITT Panthers shields on each arm with a printed logo. The shades are perfect for any outdoor activity like; golfing, driving, hiking, fishing or cheering on the team at a tailgating event or at a home game day BBQ with a lens rating of 100% UVA/UVB for maximum UV protection. The high-quality frames are as durable as they are fashionable and with their classic look they are the perfect fan accessory that can be worn everyday for every occasion.
Specials
SPRING SALE
Sports memorabilia gifts under $10
Purchase ANY ITEMS and receive FREE SHIPPING.
All ITEMS INCLUDED!
Your favorite Football, College and Hockey SPORTS FAN PRODUCTS for GREAT PRICES.
SALE valid Through April 13th.Get your favorite officially licensed football items and more at Crazed Out Sports!
Great team gifts available for all occasions.
Happy EASTER