College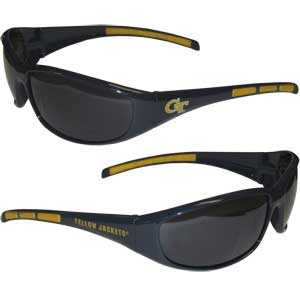 Our collegiate Georgia Tech Yellow Jackets wrap style sports memorabilia sunglasses have the Georgia Tech Yellow Jackets school logo screen printed the frames. The sunglass arms feature rubber colored accents. UV 400 protection. Thank you for shopping with CrazedOutSports.com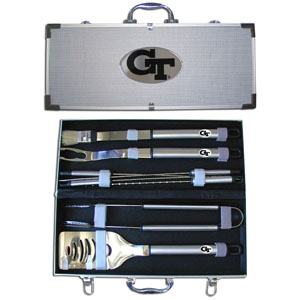 Our collegiate Georgia Tech Yellow Jackets 8 pc BBQ set includes a spatula with knife edge, grill fork, tongs, basting brush and 4 skewers. The tools are approximately 19" long and have sturdy stainless steel handles. The aluminum carrying case features a metal carved emblem with enameled finish. Thank you for shopping with CrazedOutSports.com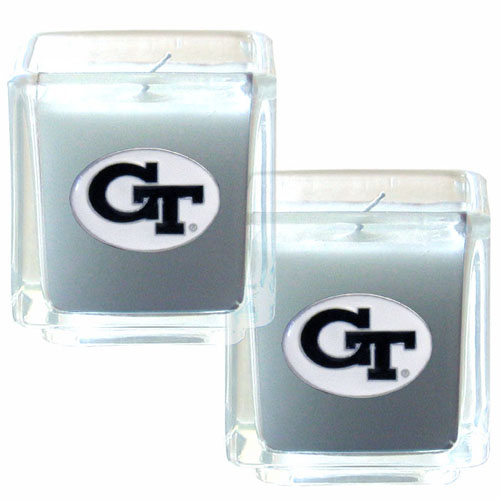 Georgia Tech Yellow Jackets College Candle Set includes two 2" x 2" vanilla scented candles featuring a metal square with a hand enameled college emblem. Check out our extensive line of collegiate merchandise! Thank you for shopping with CrazedOutSports.com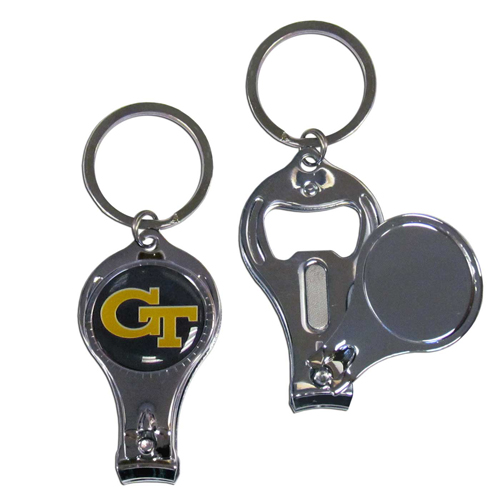 This unique collegiate Georgia Tech Yellow Jackets key chain has 3 great functions! The Georgia Tech Yellow Jackets 3 in 1 Key Chain opens to become a nail clipper, when open you can access the nail file pad and the key chain has a bottle opener. Thank you for shopping with CrazedOutSports.com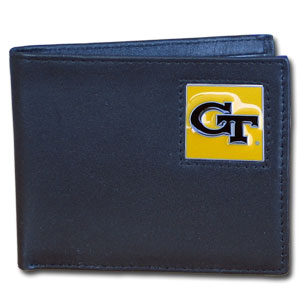 This Georgia Tech Yellow Jackets college Bi-fold wallet is made of high quality fine grain leather and includes credit card slots and photo sleeves. School logo is sculpted and enameled with fine detail on the front panel. Packaged in a window box. Thank you for shopping with CrazedOutSports.com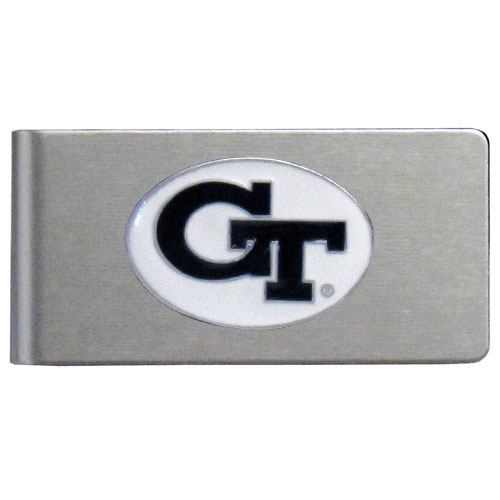 This quality college money clip has a brushed metal finish and features a fully cast and hand enameled school logo. Thank you for shopping with CrazedOutSports.com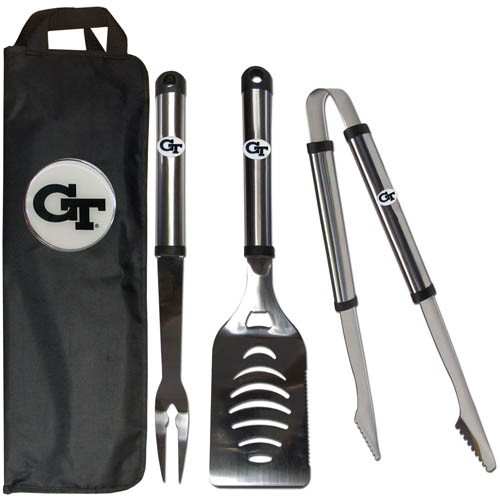 Our Georgia Tech Yellow Jackets stainless steel 3 pc BBQ tool set includes a large spatula with built in bottle opener, heavy duty tongs, and large fork. All the tools feature a team logo on the handle. The set comes with a durable canvas bag that has a chrome accented team logo. Thank you for shopping with CrazedOutSports.com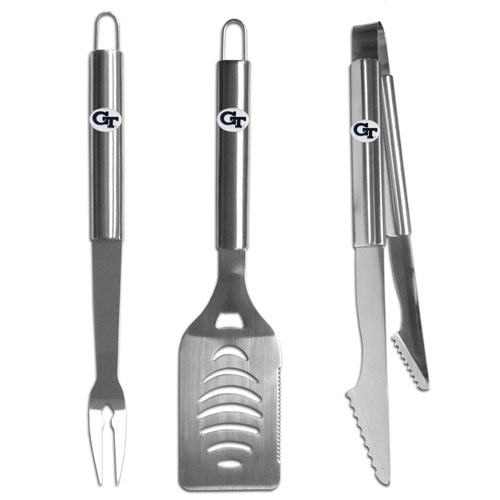 Our Georgia Tech Yellow Jackets stainless steel 3 pc BBQ tool set includes a large spatula with built in bottle opener, heavy duty tongs, and large fork. All the tools feature a team logo on the handle. Thank you for shopping with CrazedOutSports.com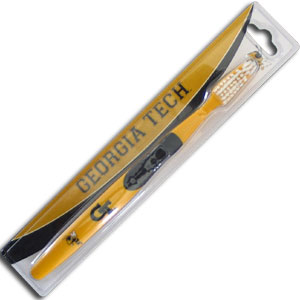 A great way to show off your team spirit! Our College Licensed toothbrushes have opposing angled bristles to reach between teeth with each forward and backward stroke. The extended tip accesses hard-to-reach areas of the mouth. Thank you for shopping with CrazedOutSports.com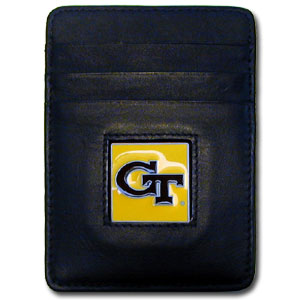 Our college Money Clip/Card Holders won't make you choose between paper or plastic because they stow both easily. Features our sculpted and enameled school logo on black leather. Packaged in a windowed box. Thank you for shopping with CrazedOutSports.com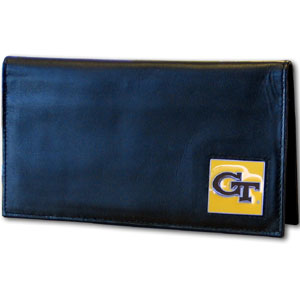 Our deluxe college checkbook cover is made of high quality leather and includes a card holder, clear ID window, and inside zipper pocket for added storage. Team logo square is sculpted and enameled with fine detail. Packaged in a windowed box. Thank you for shopping with CrazedOutSports.com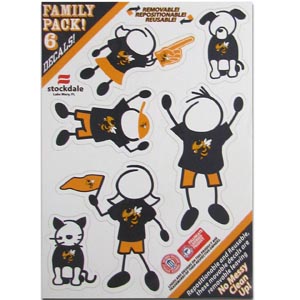 Show off your team pride with our Georgia Tech Yellow Jackets family automotive decals. The small set includes 6 individual family themed decals that each feature the team logo. The 5" x 7" decal set is made of outdoor rated, repositionable vinyl for durability and easy application. Thank you for shopping with CrazedOutSports.com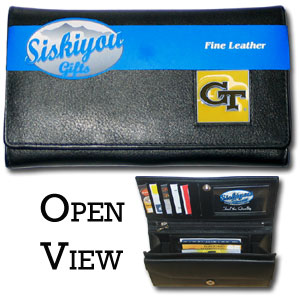 This genuine leather women's pocketbook features 9 credit card slots, a windowed ID slot, spacious front pocket, inner pocket and zippered coin pocket. The front of the pocketbook has a hand painted metal square with the team's primary logo. Thank you for shopping with CrazedOutSports.com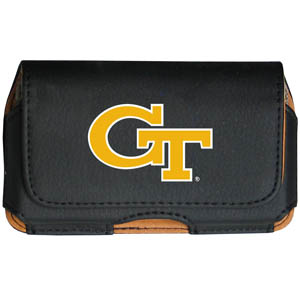 Keep you personal electronics safe with this horizontal protective case with belt clip and easy flip front. Fits a variety of personal electronics like blackberries, Nano classics, and iTouch. Thank you for shopping with CrazedOutSports.com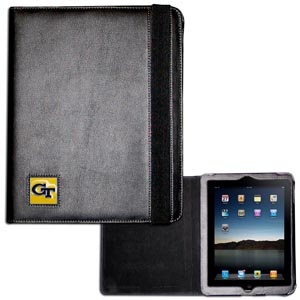 The perfect iPad accessory. The black case hold the iPad 1 and the iPad 2 with Smart Cover and features a cast and enameled school emblem. Thank you for shopping with CrazedOutSports.com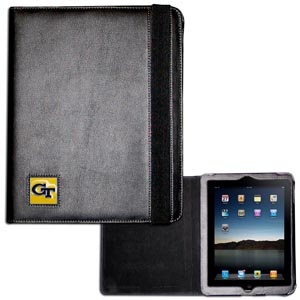 The perfect iPad accessory. The black case fits the iPad 2 and iPad 3 and allows you to access all functions easily while the device remains in the case. The case features a cast and enameled school emblem. Thank you for shopping with CrazedOutSports.com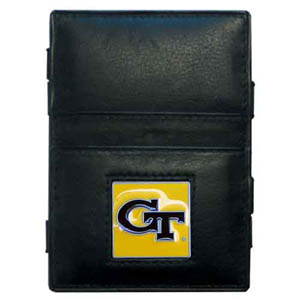 This innovative jacob's ladder wallet design traps cash with just a simple flip of the wallet! There are also outer pockets to store your ID and credit cards. The wallet is made of fine quality leather with an enameled school emblem. Thank you for shopping with CrazedOutSports.com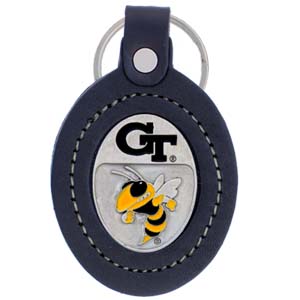 Our college key ring combines fine leather surrounding a sculpted & enameled college team emblem. The intricate design and craftsmanship makes this key ring a unique gift. Made in America. Thank you for shopping with CrazedOutSports.com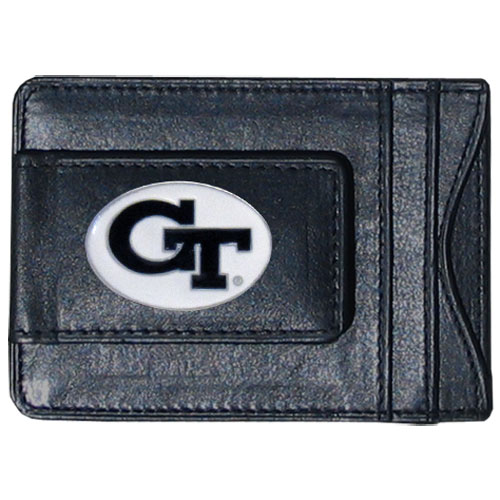 Our genuine leather collegiate money clip/cardholder is the perfect way to organize both your cash and cards while showing off your school spirit! Thank you for shopping with CrazedOutSports.com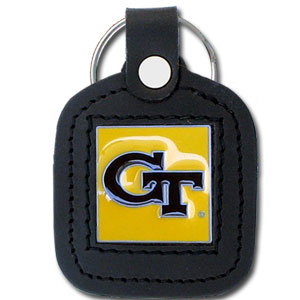 This square college key ring features fine leather surrounding a sculpted and enameled logo. Check out our entire line of collegiate merchandise! Thank you for shopping with CrazedOutSports.com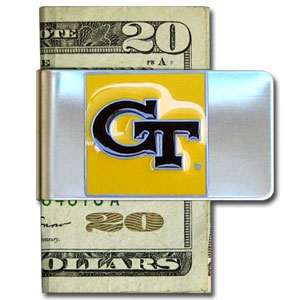 Put your team spirit where your money is with this large metal college money clip. Hand painted 3D emblem in school colors. Check out our extensive line of licensed sports merchandise! Thank you for shopping with CrazedOutSports.com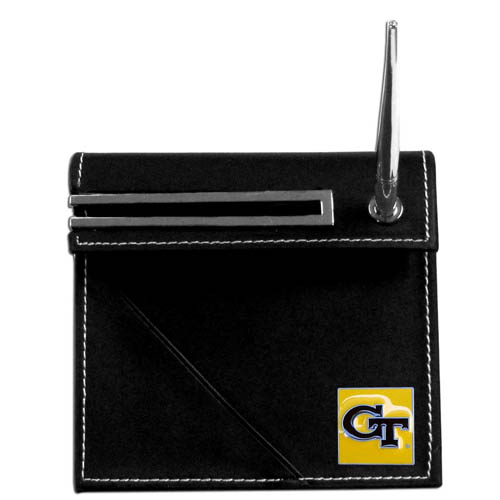 Our classic Georgia Tech Yellow Jackets collegiate desk set features a slot for a note pad, a slot for your business cards and comes with a stylish pen. The set shows off your school pride with a hand enameled school emblem. Thank you for shopping with CrazedOutSports.com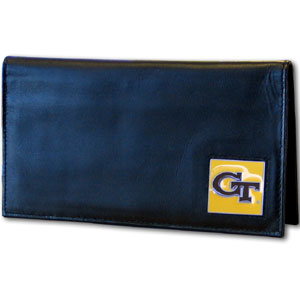 Our Georgia Tech Yellow Jackets college executive checkbook cover is made of high quality leather includes inside pockets for added storage and plastic separator sheet for duplicate check writing. Georgia Tech Yellow Jackets Team logo square is sculpted with hand enameled detail. Thank you for shopping with CrazedOutSports.com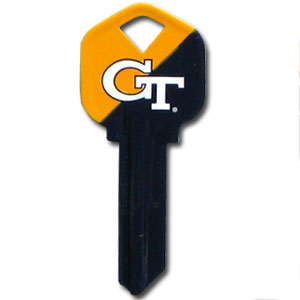 Georgia Tech Yellow Jackets College house keys are a great way to show Georgia Tech Yellow Jackets school spirit while keeping keys organized. Keys can be cut to fit your home or office Kwikset keys (reference pre-fix CSK for Schlage keys). Thank you for shopping with CrazedOutSports.com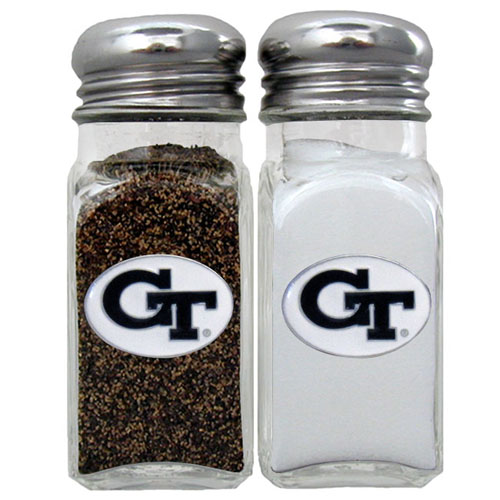 Our collegiate Georgia Tech Yellow Jackets salt and pepper set is a great addition to any tailgating event or backyard BBQ. Thank you for shopping with CrazedOutSports.com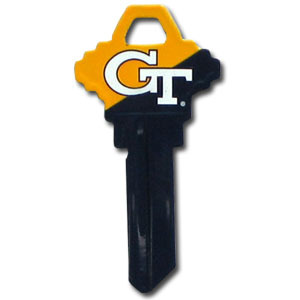 Georgia Tech Yellow Jackets College house keys are a great way to show Georgia Tech Yellow Jackets school spirit while keeping keys organized. Keys can be cut to fit your home or office Schlage keys (reference pre-fix CQK for Kwikset keys). Thank you for shopping with CrazedOutSports.com

These Georgia Tech Yellow Jackets large hoop earrings have a fully cast and enameled Georgia Tech Yellow Jackets charm with enameled detail and a high polish nickel free chrome finish and rhinestone access. Hypoallergenic fishhook posts. Thank you for shopping with CrazedOutSports.com

These Georgia Tech Yellow Jackets crystal dangle earrings are the perfect accessory for your game day outfit! The earrings are approximately 1.5 inches long and feature an iridescent crystal bead and nickel free chrome Georgia Tech Yellow Jackets charm on nickel free, hypoallergenic fishhook posts. Thank you for shopping with CrazedOutSports.com

This Georgia Tech Yellow Jackets classic single charm bracelet is a great way to show off your team pride! The 7.5 inch large link chain features a high polish Georgia Tech Yellow Jackets charm and features a toggle clasp which makes it super easy to take on and off. Thank you for shopping with CrazedOutSports.com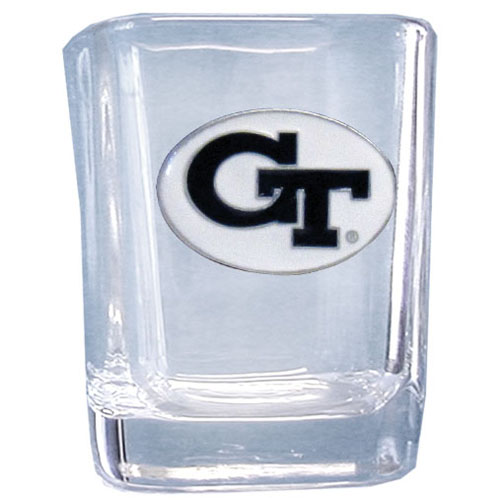 This Georgia Tech Yellow Jackets 2 oz collegiate square glass features a fully cast and enameled Georgia Tech Yellow Jackets emblem. Thank you for shopping with CrazedOutSports.com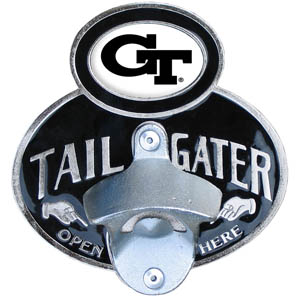 This Georgia Tech Yellow Jackets tailgater hitch cover features a functional bottle opener and Georgia Tech Yellow Jackets emblem with enameled finish. Fits class II and Class III hitch covers. Thank you for shopping with CrazedOutSports.com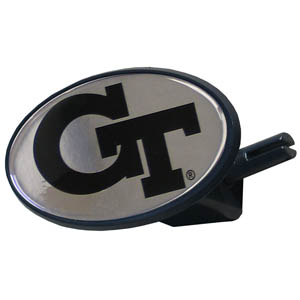 This Georgia Tech Yellow Jackets is a strong plastic hitch cover that includes hitch pin and features a Georgia Tech Yellow Jackets school logo dome. Fits class III receivers. Thank you for shopping with CrazedOutSports.com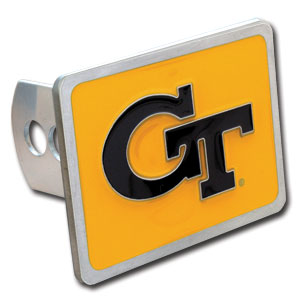 This Georgia Tech Yellow Jackets College Trailer Hitch Cover is hand painted with 3-D carved Georgia Tech Yellow Jackets logo. Hardware included. Fits standard hitches. Enameled on durable, rust-proof zinc. Fits Class II and Class III hitches. Check out our extensive line of automotive accessories! Thank you for shopping with CrazedOutSports.com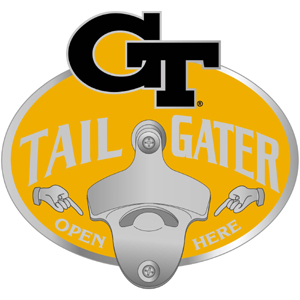 This Georgia Tech Yellow Jackets tailgater hitch cover features a functional bottle opener and Georgia Tech Yellow Jackets school emblem with enameled finish. Thank you for shopping with CrazedOutSports.com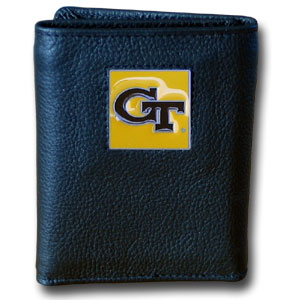 Our college Tri-fold wallet is made of high quality fine grain leather with school logo sculpted and enameled with fine detail on the front panel. Packaged in a windowed box. Thank you for shopping with CrazedOutSports.com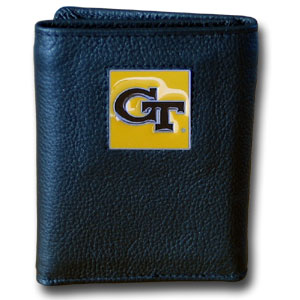 Our College collectors leather/nylon tri-fold wallet features a sculpted and hand painted team square on a black leather trifold. Includes an ID window, slots for credit cards and clear plastic photo sleeves. For a sporty feel, the liner of the wallet is high quality nylon. Thank you for shopping with CrazedOutSports.com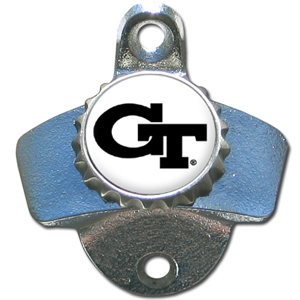 This Georgia Tech Yellow Jackets sturdy wall mounted bottle opener is a great addition for your deck, garage or bar to show off your school spirit. Thank you for shopping with CrazedOutSports.com

Use this Georgia Tech Yellow Jackets attractive clip magnet to hold memos, photos or appointment cards on the fridge or take it down keep use it to clip bags shut. The Georgia Tech Yellow Jackets Clip magnet features a silk screened Georgia Tech Yellow Jackets logo. Thank you for shopping with CrazedOutSports.com

Make a statement with our collegiate Georgia Tech Yellow Jackets chain necklaces. The 20 inch chain features a fully cast, high polish Georgia Tech Yellow Jackets pendant with vivid enameled details. Perfect accessory for game day and nice enough to wear everyday! Thank you for shopping with CrazedOutSports.com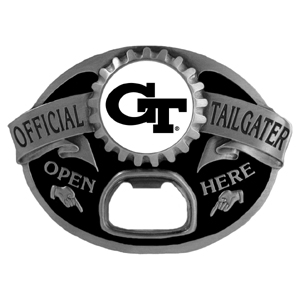 Quality detail and sturdy functionality highlight this great Georgia Tech Yellow Jackets tailgater buckle that features an inset Georgia Tech Yellow Jackets team dome logo. Thank you for shopping with CrazedOutSports.com
Georgia Tech Yellow Jackets college team logo key ring is sculpted and enameled. A great way to show Georgia Tech Yellow Jackets spirit! Check out our entire line of collegiate key rings! Thank you for shopping with CrazedOutSports.com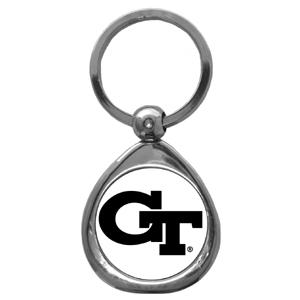 Our collegiate Georgia Tech Yellow Jackets chrome keychain has a high polish nickel keychain with domed team logo insert. Thank you for shopping with CrazedOutSports.com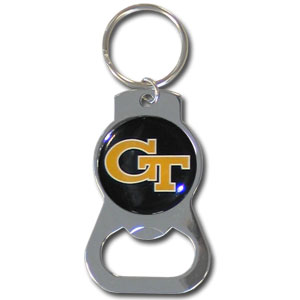 This Georgia Tech Yellow Jackets collegiate bottle opener key chain has a polished chrome finish and features the school logo. Thank you for shopping with CrazedOutSports.com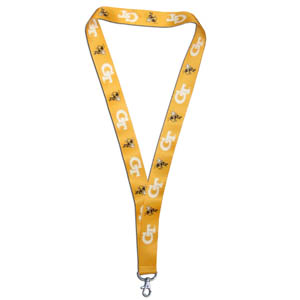 These Georgia Tech Yellow Jackets collegiate lanyards are a great way to show off your Georgia Tech Yellow Jackets pride and keep track of your keys, ID's, badges and much more. The lanyards are made of a comfortable nylon with screen printed school logos. They feature safety closures that disconnect if the lanyard becomes caught on something. Thank you for shopping with CrazedOutSports.com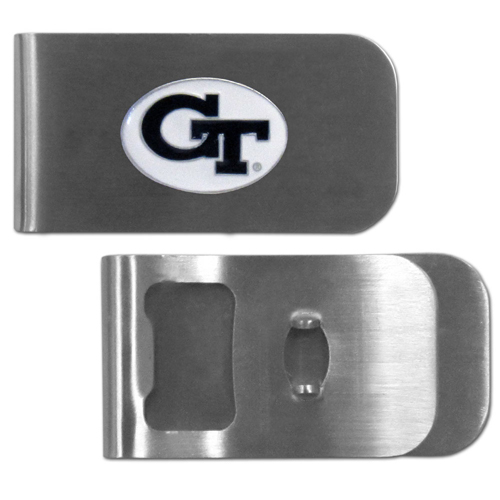 This Georgia Tech Yellow Jackets unique money clip is made of heavy duty steel and has a functional bottle opener on the back. The money clip features a team emblem with enameled team colors. Makes a great gift! Thank you for shopping with CrazedOutSports.com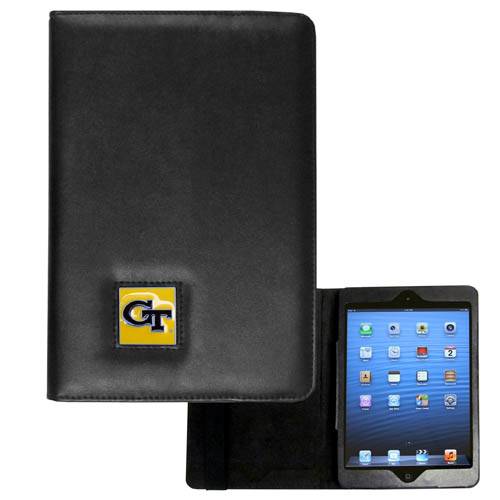 The perfect iPad mini accessory. The Georgia Tech Yellow Jackets iPad Mini Case allows the mini to slide easily into the inner sleeve that allows complete accessibility to all of the devices features and is the protected by the attractive out cover that can be secured closed or open while working with a simple stretch band. The great case features a cast and enameled college emblem. Thank you for shopping with CrazedOutSports.com

This attractive Georgia Tech Yellow Jackets iPad Air folio case provides all over protection for your tablet while allowing easy flip access. The cover is designed to allow you to fully utilize your tablet without ever removing it from the padded, protective cover. The enameled team emblem makes this case a great way to show off your team pride! Thank you for shopping with CrazedOutSports.com

Our functional and fashionable Georgia Tech Yellow Jackets survivor bracelets contain 2 individual 300lb test paracord rated cords that are each 5 feet long. The team colored cords can be pulled apart to be used in any number of emergencies and look great while worn. The bracelet features a team emblem on the clasp. Thank you for shopping with CrazedOutSports.com

Our officially licensed Georgia Tech Yellow Jackets tall leather wallet cover is made of high quality leather with a fully cast metal Georgia Tech Yellow Jackets emblem with enameled team color detail. The cover fits both side and top loaded checks and includes a large zippered pocket, windowed ID slot, numerous credit card slots and billfold pocket. Thank you for shopping with CrazedOutSports.com

We have combined the wildly popular Euro style beads with your favorite team to create our Georgia Tech Yellow Jackets euro bead necklace. The 18 inch snake chain features 4 Euro beads with enameled team colors and rhinestone accents with a high polish, nickel free charm and rhinestone charm. Georgia Tech Yellow Jackets Euro Bead Necklace is the perfect way to show off your team pride. Thank you for shopping with CrazedOutSports.com

These officially licensed Georgia Tech Yellow Jackets chrome dangle earrings have fully cast Georgia Tech Yellow Jackets charms with exceptional detail and a hand enameled finish. The earrings have a high polish nickel free chrome finish and hypoallergenic fishhook posts. Thank you for shopping with CrazedOutSports.com

Our functional and fashionable Georgia Tech Yellow Jackets camo survivor bracelets contain 2 individual 300lb test paracord rated cords that are each 5 feet long. The camo cords can be pulled apart to be used in any number of emergencies and look great while worn. The bracelet features a team emblem on the clasp. Thank you for shopping with CrazedOutSports.com

Our functional and fashionable Georgia Tech Yellow Jackets camo survivor bracelets contain 2 individual 300lb test paracord rated cords that are each 5 feet long. The camo cords can be pulled apart to be used in any number of emergencies and look great while worn. The bracelet features a team emblem on the clasp. Thank you for shopping with CrazedOutSports.com

This Georgia Tech Yellow Jackets Long Neck Bottle Opener heavy-duty steel opener is extra long, with a durable vinyl covering. The extra length provides more leverage for speed opening and the opener features a large printed Georgia Tech Yellow Jackets logo.
College->Georgia Tech Yellow Jackets
Looking to show your support for your favorite NCAA team,
UCONN
,
Hurricanes
,
Gators
,
USC Trojans
,
Spartans
,
Crimson Tide
,
BYU
, and the list goes on and on, just looking for some College team products for your home, office or just yourself ? Then get your
college candle set
,
college checkbook cover
,
college ladies wallet
, college ice bucket,
college logo pendant
, and so much more. Check out our amazing line up of NCAA College memorabilia and collectible products here at Crazed Out Sports!
Specials

* NFL PRESEASON SALE !! *
Purchase ANY ITEMS and receive FREE SHIPPING.
All ITEMS INCLUDED !!
Your favorite SPORTS FAN PRODUCTS for GREAT PRICES..
SALE valid Through SEPT. 11th Get your favorite NFL items!!!
SAVE EXTRA 20%off with
NEW BRITAIN CT. IN-STORE PICK-UP!!